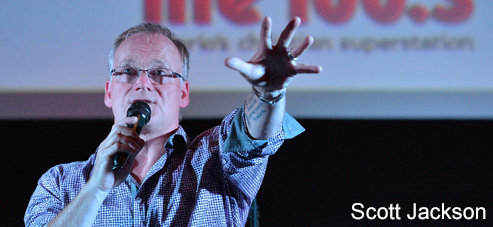 1999 | 2000 | 2001 | 2002 | 2003 | 2004 | 2005 | 2006 | 2007 | 2008 | 2009 | 2010 | 2011 | 2012 | 2013 | 2014 | 2015 | 2016
2014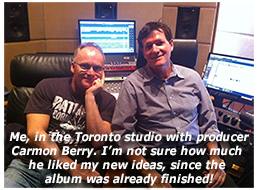 Luke Langman has been a friend of mine for several years, although this year we certainly got more involved. Luke invited me to his farmhouse to listen to new tracks that had just been produced for a new album. I made some suggestions and next thing I knew I was in the studio with his producer Carmon Berry in Toronto, telling Carmon what to do! One of the big changes was adding gospel choir on the song "Wonders of Our God". Carmon brought in his friends from the Toronto Mass Choir and the song turned out incredible! Next, I ended up coordinating the album - graphics, manufacturing, marketing, a music video and the June CD release party! I guess you could say I was "all in!"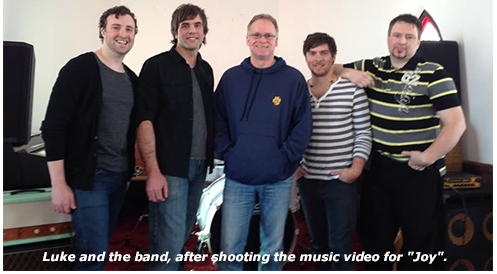 As 2014 began, the staff changes continued. With our producer Tim van Dyk on paternity leave, Evan Duran left The Slam to fill in for four months, and we moved Terry Molinaro from the Street Team, to the host of the Slam, with Jay Mac as a fill-in. We soon discovered an alter-ego, a wild-man personality within Terry!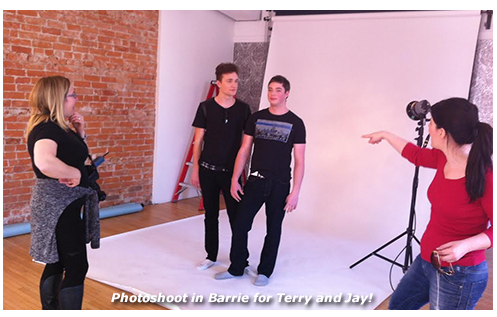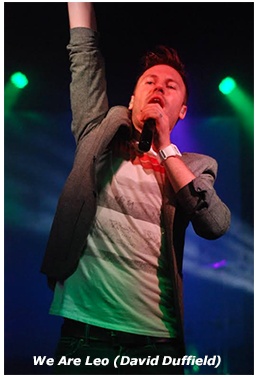 Air Raid 23 took place in April. In fact it was a triple Air Raid - April 11 in Newmarket, April 12 in Barrie and April 13 in Huntsville. Sometimes, we hire the performers and assemble the Air Raid but this time we bought three shows on an existing tour. Headlining was Silverline, with We Are Leo and Loftland. Unfortunately, the tour manager wouldn't allow us to add a local act on the bill. This was probably the poorest show in the series - poor attendance in Newmarket and worse in Huntsville, an unpleasant headliner and a surprise marshmallow attack by Silverline in Huntsville, resulting in a serious cleanup. Further, I was flat on my back in pain for four weeks, rarely in the office, and able to only attend the Barrie show. There was one highlight and that was a great pre-show chat with the We Are Leo guys, where I learned lots about their side of the music industry.
AJ The Wonderdog - our morning waker for the past year, and my son-in-law, decided to pack up his headphones and his career in radio, in favour of chasing his dream to be a fireman. He didn't want any fanfare or celebration. I tried to honour him with a party for his ten years of service at LIFE, but it wasn't meant to be. April 17 he said goodbye on the air, through pools of tears.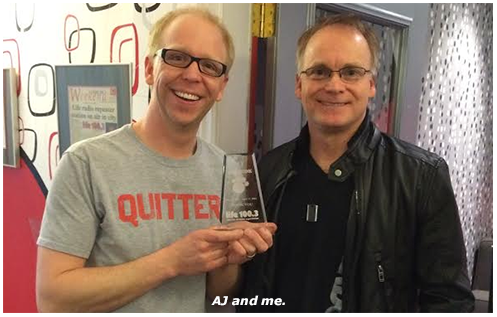 I have to admit that I love change. I love new employees because they bring new zeal and excitement. You can't teach zeal - and when someone has it, you wanna grab it! Here was an opportunity to shake up LIFE 100.3 mornings!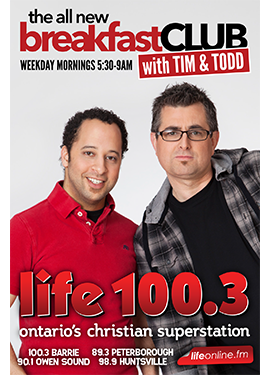 I promoted Tim Maassarany from afternoons to mornings and then added Todd Gale as his co-host. I found Todd on K-FM in Sudbury and had been "courting" him for two years, waiting for a position that matched his skills. I renamed the show "The All-New Breakfast Club" - well, it certainly was new! And, it let us build on a show name that was already branded.
In May, Steven Curtis Chapman and Geoff Moore, with Dan Bremnes performed in Brampton to a small crowd of about 1,200. My buddy Dan Bremnes had just been signed to Capitol Records and was added to the tour - so proud of Dan to have this national tour with two major artists!
Always great to see Geoff Moore - the artist who turned me on to Christian music.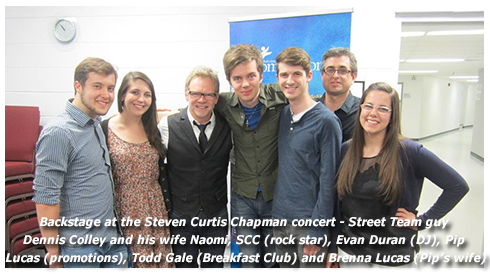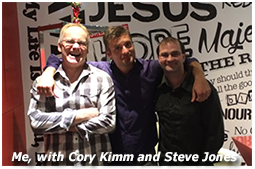 One of my radio heroes is Cory Kimm - of CHFI fame, and CHUM-FM! And several other stations! We met 15 years ago when he worked at KISS 92 in Toronto and have stayed in touch over the years. In fact, it is Cory's voice you hear reading various scripts during Sharathon. I invited Cory to come to LIFE and share with our DJs his radio philosophy. Training is always a great thing to offer the staff and it was a great morning!
In June, The Color came to LIFE during their Ontario Tour. Singer Jordan Janzen and I met at the Covenant Awards a couple years ago. Soon after, I invited him and the band to play at Air Raid 22, for which they drove all the way from Winnipeg to perform! In June, Jordan and the Color played several shows in Central Ontario, with the LIFE Street Team along side for support.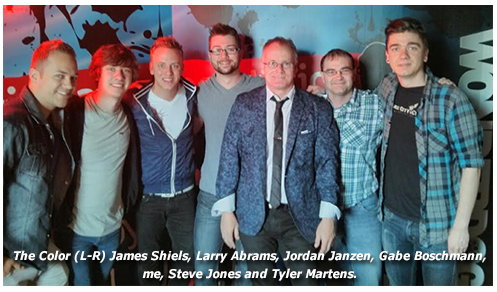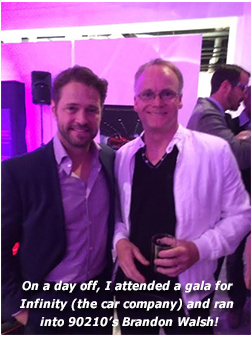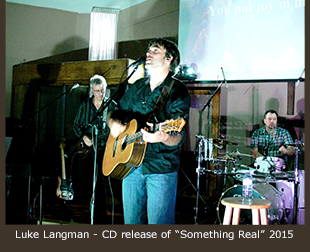 Another artist that LIFE 100.3 is sponsoring is Luke Langman, whom we've known for a while. Luke launched the new album with a CD release party LIFE sponsored in June in Wasaga Beach, then we booked him for a few shows including two listener cruises in Orillia and Peterborough. And later, at Rock The Lake.
One of my favourite Christian bands is The Classic Crime and the side project for singer Matt MacDonald is Vocal Few, which is just he and his wife. Well, VF were on a house party tour of Ontario and we invited them to play for the LIFE 100.3 Staff Summer Party - at my house. Hearing an acoustic version of "The Coldest Heart" was probably the highlight of the year for me.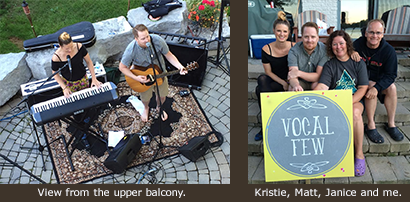 LIFE 100.3 celebrated its 15th Anniversary in August with a concert headlined by Peter Furler, the former Newsboy. He sang all the Newsboys songs we love. Chris Bray opened the night. And, the LIFE DJs each shared a moment of LIFE from the stage. What a great celebration!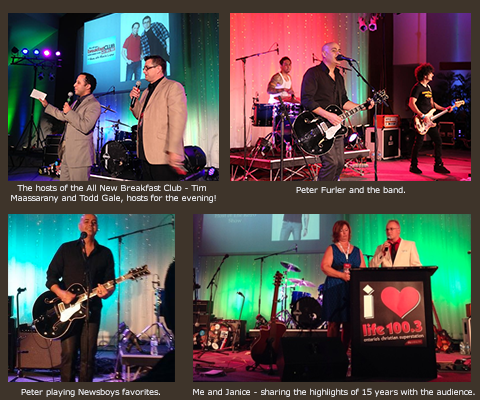 House parties at our house have become a regular thing. After the summer show with Vocal Few, we had a few more. One was for Will Walker - a new friend in Barrie, who wrote and recorded a powerful song called "Passion And Fire". LIFE funded the recording and helped him launch the song to Christian radio.
The other house party was held for TJ Ross, also a new friend who I met in Peterborough when he opened for an Anthem For Today show. We hit it off and I invited him to play with AFT at a couple of shows, and then LIFE sponsored the launch of his first sing "You Saved Me" produced by Andy Horrocks, and funded a merch booth. He performed a dynamic couple of sets at the October house party for a packed crowd. Unfortunately, and sadly, I haven't continued with since that night.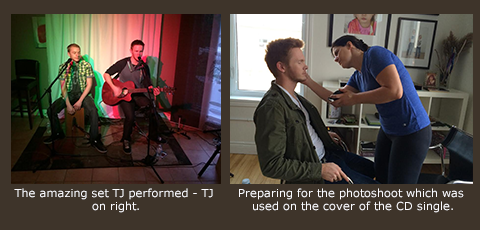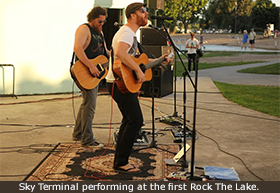 Rock The Lake was a small concert we held at the Orillia Aqua Theatre - with Luke Langman, Sky Terminal and Anthem For Today.
With previous promoters, the average atttendance was about 60 people, but for Rock The Lake we had 400 people! It was a great night of free music and we have another show this summer - August 2015!
In November, I took at trip to Seattle to visit my son and his new baby and while I was there, I toured Robert Lang Studios. It is the place where many artists have recorded epic albums, including the Foo Fighters. My emails and phone calls to arrange a tour were not returned, so I just showed up, knocked on the door and Robert himself opened the door. He lectured me for just showing up "that's not how it's done!", but once I told him I was a band manager, he quickly invited me in and gave me a grand tour. It was - truly awesome, feeling the vibe where great songs were recorded with mega-budgets. There is no sign out front to identify the studio, and the building is carved into the rock along the shoreline, with hallways more like corridors of a cave - dark and all rock, and complete with a secret entrance that Robert called "the Dave Matthews escape door".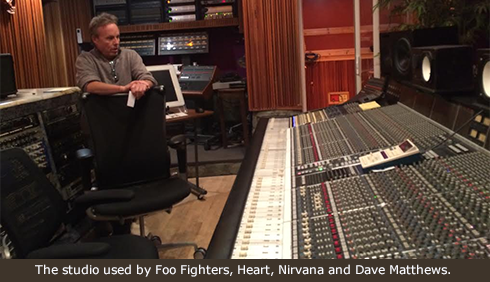 Lastly in 2014, I continued to manage and tour with Anthem For Today. We played 50 shows, and despite several bouts of health issues, I was there for 49 other. The boys have matured professionally and become entertainers. It's quite the surreal situation, arranging their professional lives, putting agenda together, photoshoots, music videos, studio recordings, coaching and being their Road Manager. It has become one of the great loves in my life and I am grateful to be part of their organization.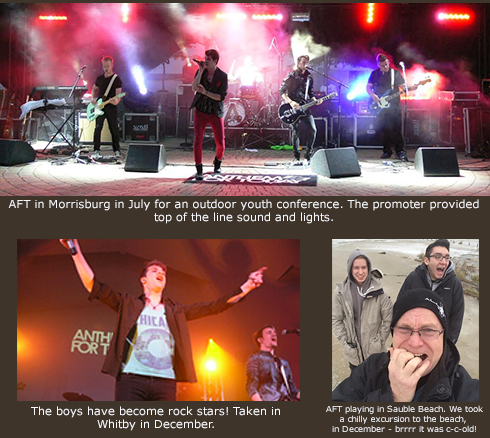 Continue onto 2015