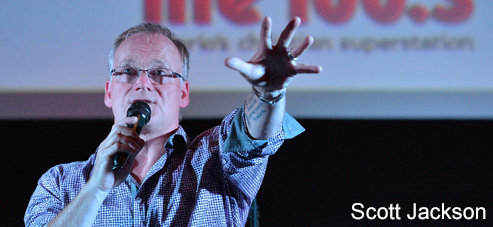 SJ BIO
Scott is from Toronto. As a pre-teen he listened to 1050 CHUM and got the radio bug. Upon sitting-in while Carpenter was on CHUM, Scott (Jackson) watched his radio hero introduce "Rock The Boat" by the Hues Corporation. It was at that moment Scott thought "I want to do that!" He enrolled in the radio course at Humber College and began his career working part-time in Peterborough and then on-air in Kingston at CKLC.
Like most radio people, Scott moved from town to town, up and down the dial, working in various formats in various cities.
In 1989, while working in Pembroke, Ontario, Scott accepted Christ as Lord.
In 1996 he moved to Nashville and became the Vice President of WAY-FM, the leading Christian radio station in the United States. He returned to Canada in 1997 and began the groundwork for LIFE 100.3, which launched August 15, 1999. Scott is the President of Trust Communications Ministries and still jumps behind the microphone from time to time.
When Scott is on vacation, he listens to other radio stations, and usually requests a tour.
Of course there are times when even Scott needs to take a break from radio. In the summer, if he's not in the office, you'll find him on his road bike, cruising the back roads around Central Ontario. And by cruising, we mean cycling at least 50km a day!
For recreation, Scott owns a business – More Radio which produces an industry magazine, designed to inspire Canadian radio employees and artists in the Christian industry to work together.
More Radio conceptualized a 30-hour program called "The History of Contemporary Christian Music" which was syndicated across Canada on 20 radio stations. More Radio also produces CT-20 – a weekly countdown show that is offered free to all Christian stations in Canada. It also produces an annual Christian music show - "O Canada!" - to celebrate Canada Day.
Scott authored his first book "Good To Great – The Radio Version". Scott says, "I only know how to do one thing which is radio!" The book was released August 2010.
In November 2012, Scott acted as Executive Producer for the debut album "A Little Louder" by Anthem For Today, working closely with producer Jamie Aplin. Upon the release of the album in January 2013, Scott was brought on as Band Manager and together they have produced music videos, received national distribution of the album, airplay on Christian radio across Canada and won the Covenant award for Modern Rock Song of the Year for the song "Inside Out".
Scott attends Living For Jesus Outreach Ministries in Orillia where he serves a drummer on the worship team.