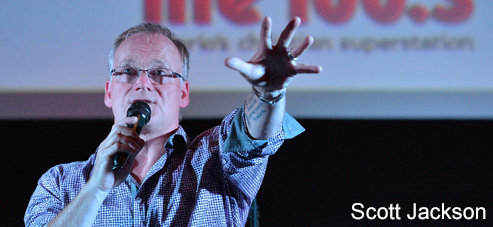 1999 | 2000 | 2001 | 2002 | 2003 | 2004 | 2005 | 2006 | 2007 | 2008 | 2009 | 2010 | 2011 | 2012 | 2013 | 2014 | 2015 | 2016
2011
Isn't it weird, that when we flip the page on the calendar we don't know what adventures lie ahead? Like on Friday January 28, the CRTC revoked the radio licence of 88.1 CKLN in Toronto, owned by Ryerson University. On Monday January 31, I released a media advisory that Trust Communications would be applying for the vacant licence. Toronto finally gets a Christian radio station? Let's wait and see!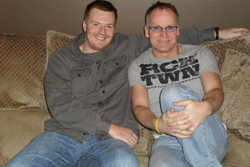 Jammin' Jeff and I reunited for supper one cold January evening. Jeff ruled Slammin' Christian Hits for five years and left his mark on LIFE history. It was good to catch up, hang out and reminisce.
Then, after one of the worst snow storms to hit Toronto, I ventured into the city to tour Q107 at their new studio location on the waterfront. I could write a novel about this "radio showpiece" but someone from Q would be able to tell the story much better than I.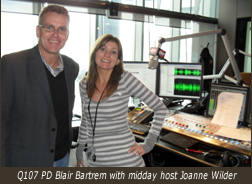 I met with Program Director Blair Bartrem and midday host Joanne Wilder and soaked up as much info and wisdom as I could. From that meeting I invited Joanne to hold a seminar for the LIFE announce staff later in April.
My Dad looked out the window of his retirement living room and saw his Chev Aveo under the snow in the parking lot. He decided he was tired of driving (age 85) and donated the Aveo to LIFE 100.3. Yes, donated! The Aveo became our third vehicle and we wrapped it with graphics to match the other vehicles in the fleet. Thanks Dad!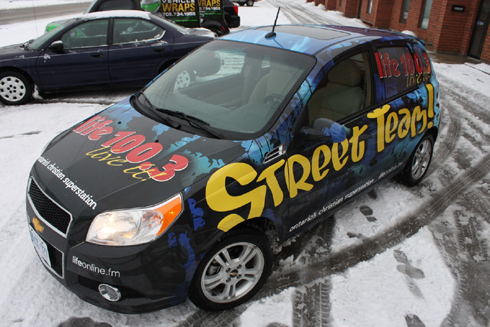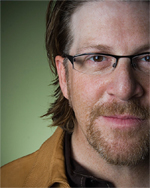 February 22, Geoff Moore turned 50. It was years ago that I discovered "Rescue Me" and "A Friend Like U." Geoff's songs were the catalysts to my discovery of Christian music, then Christian radio which led eventually to the vision of LIFE 100.3. So, I thought a short birthday tribute on this blog to Geoff would be suitable. Happy Birthday, Geoff!
In February, two big promotions were happening. "Couples Night Out" was a co-presents with World Vision. WV always puts on great evenings for couples and girls. (Hey, what about the boys?!) In Newmarket Janice and I attended "CNO" with music by Greg Sczebel.
LIFE 100.3 acquired the movie rights to "Letters From God". We took the film to 13 churches across Central Ontario. Movies seem to be a big hit with LIFE listeners and it gives our Street Team a reason to visit listeners in many cities.
In March, it was vacation time. But a vacation for me always includes visiting another radio station. I mean - what could be more fun?! In this case, Janice and I flew to Los Angeles for five days and my visit included a stop at KIIS-FM.
It is the highest revenue making station in the U.S. It's impact on other radio stations is obvious. It is also the full-time job for Ryan Seacrest. But you know what? As honouring as it was to visit KIIS, the facilities at KISS don't come close to Q107 in Toronto - in size, in class or in bigness!
March means Sharathon. This year we added social media to the presentation. In my office created a mini-TV-set where we shot video of pastors and rock stars. With AJ filming, Crystal posting status updates on line and Kristen updating the donation totals, Sharathon went into orbit! The videos that weren't posted were saved for future use. Pastors brought their church staff to Phone Central to take pledges. Artists come to perform - Sean Dayton, To Tell, Levi DenBok, Andy Taylor, Miranda Fox and Jody Cross. In the end, Sharathon totals were outstanding as we surpassed both the monthly goal and the one-time goal. Praise God! Thank you LIFE listeners!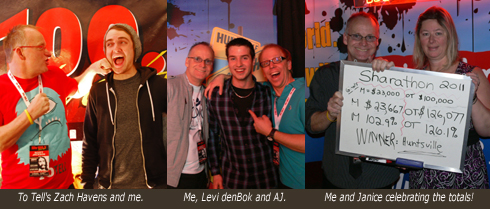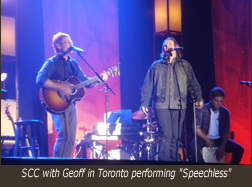 Sharathon signed off on Thursday night. Two days later, Steve Jones and I were off to Toronto to see Steven Curtis Chapman and Geoff Moore in concert. SCC is to Steve Jones what Geoff Moore is to me, so seeing them together was a special night. The show was at Queensway Cathedral in Toronto.
Before the ice began to melt, LIFE went to winter carnivals, including one in Owen Sound where Ben and Woody took in the polar bear dip!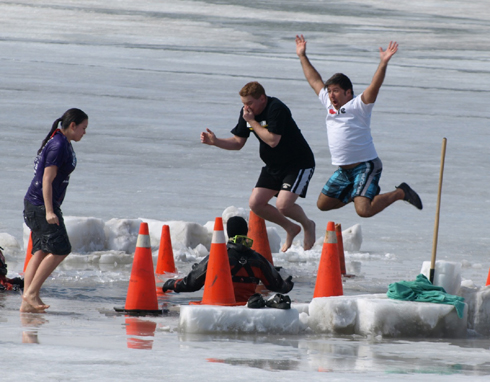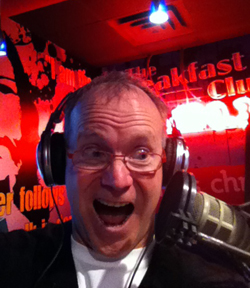 It was good to be on the air. While AJ is doing the 10-Noon shift, I still get to jump on from time to time, just to fill-in. It's the combination of the music, the contests, the listeners on the phone, chatting on Facebook, the Street Team stuff and the current events all mixed together and I get to be the glue between it all.
I enjoy the managerial stuff but being on-air is like playing in the sandbox. It's fun - and I miss it.
April was one month of amazing prices, thanks to Jen Melanson.
Every day we gave away a $500 prize, in contest we called "30 Things In 30 Days".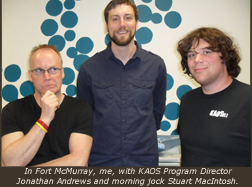 Steve Jones and I did a Christian radio tour of the Prairies with stops at KAOS in Fort McMurray, SHINE-FM in Grande Prairie, SHINE-FM in Edmonton and CHVN and IGNITE 107 in Winnipeg. It's always great to hook up with other guys who work in Christian radio. We talk by email but rarely, or never, meet. The four-station tour was a bit nuts. Every night after dinner we flew to another city. We felt like rock stars! By the third day we zonked from flying but on the fourth day in Winnipeg, we caught our breath and enjoyed the tour. Made new friends and stole some ideas!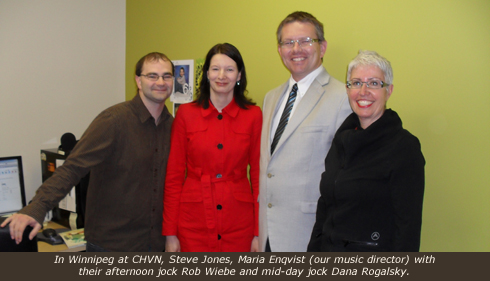 One week after the radio tour was Air Raid 19 and for the first time we took the concert to two cities - Peterborough on June 3 and Barrie June 4, 2011. The line-up was headlined by Hawk Nelson ("Letters To The President") and supported by Manafest ("Fire In The Kitchen"), B. Reith ("Knockin' On My Door"), and To Tell ("Safe To Say"). In Peterborough more than 450 people showed up at Calvary Church which was a huge encouragement. The Barrie show had close to 800 kids at Mapleview. Hawk Nelson put on the best show of all the Air Raids. B. Reith - we had not seen him perform before but he wasn't touring in our area, so by request he came!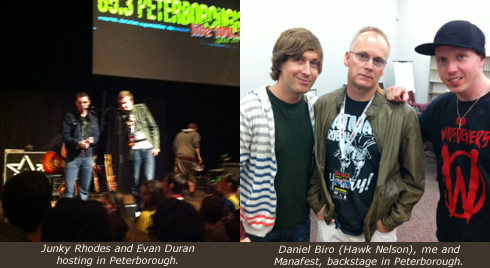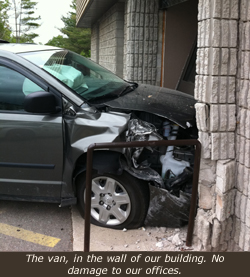 So, one day I'm sitting in my office at the computer, minding my own business when I hear a - B O O M! Not a crash. Not a bang. But - - B O O M! My office walls shook! Terrorist? Explosion? I looked out my window and there was the back half of a van. The front half was not visible because it was -
in the building
! We ran outside and saw the van, having busted down the glass doors and took out several pieces of brick! The driver and his wife were visiting a medical office in our building and got out of the van without being hurt. I stood there, looking at the van, just 6 feet from my office window. I could feel the hand of God on me, around me, protecting me. It was so real; I was frozen in that thought of "a very close call".
In June, LIFE presented "The Heart of Worship" concerts. Yes, two. We had Barrie planned nearly a year in advance with four worship artists. Bringing in four guys requires a lot of planning and we felt doing a second show would make it worthwhile for everyone. So, during Sharathon we challenged listeners by awarding a free concert in the city with the most donors per capita - and Huntsville won! Chris Bray came from London, Sean Dayton from North Bay, Dan Macaulay from New Haven, CT and Dan Bremnes from Salmon Arm, BC.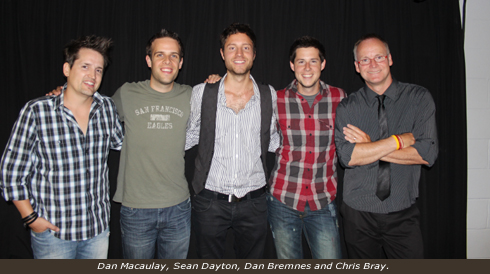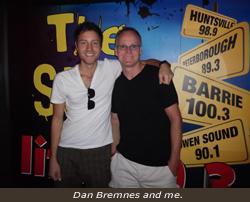 Dan and I met last year in Calgary at a conference and his stage presence for worship music blew me away. So we flew in Dan and his band, who became the "house band" for both shows. Dan and I hit it off and we spent three days together at shows and cruising Toronto.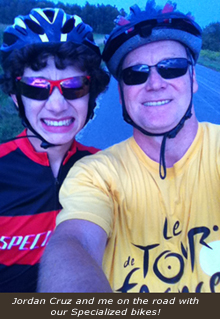 I bought a new bike this year - a Specialized Roubaix. (Specialized is the manufacturer - it's not a specially designed bike, although that would be nice!) If the day is nice I try to sneak out of the office early, but it doesn't happen often enough.
In August we launched more billboards, which we find very effective judging by listener comments. Billboards, positioned in key locations with lots of traffic, are a great way to build loyalty with current listeners, and hopefully repatriate listeners from other stations. Peterborough got their 89.3 billboard and Barrie, Orillia and Midland got the "Bad Company" campaign. The message is "bad company corrupts good character" from 1 Corinthians 15:33. Can you believe we actually got a listener complaining that we were making fun of the 70's rock band Bad Company? Yeeesh!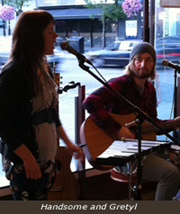 In August, we boarded the Peterborough Sunset Cruise for a 3 hour dinner ride on the Otonabee River. Andy Taylor from LIFE's Karaoke Superstar performed with his band, and my son, Brett and his wife opened the night as "Handsome and Gretyl".
Woody Woodland left LIFE in July. We were sad to see him leave but we replaced him with Maria Lopez who came to us from 105.9 SHINE-FM in Edmonton where she did the midday show. Maria has a long resume of broadcasting experience from radio, TV, traffic, promotions, sales and on-air. We're lucky to have her on the team as Ben's new co-host!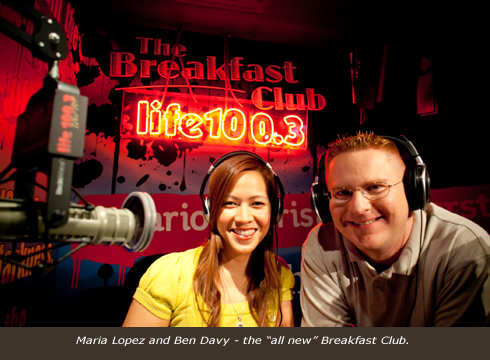 Newsboys launched a ten-city cross-Canada tour. "Maple Noise" came to Toronto at Catch The Fire church, also known to most people as the Toronto Vineyard. On the tour was a big roster of Canadian bands including our good friends To Tell, Manic Drive, Manafest, TFK, Jody King and Jon Bauer.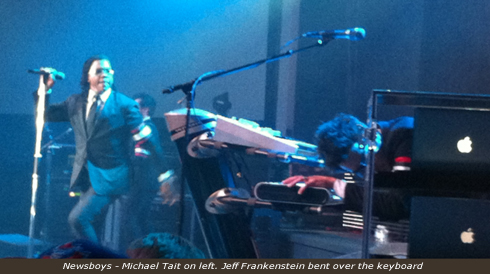 I admit, I thought Michael Tait would last one year as their new lead singer. I kinda figured he was too big in his own right. But now, more than two years later, he is sounding great and as a band they are all looking great. Tait takes the familiar Newsboys songs and does them his way, which isn't better or worse - just different. Different is cool and fun. And man is he a great preacher! I really like the new show!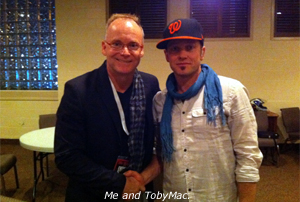 Still sounding fresh and relevant at age 44 is Toby Mac. He played in Toronto September 24 at "Church On The Queensway". I was waiting backstage to get a concert poster autographed for the LIFE studio. The stage intro played and Toby dashed through the room, signed the poster, posed for a photo and left for the stage. With a few second remaining in the intro Toby stopped at the door and said to me, "hey thanks for promoting the show". That's the first time I remember a big artist saying thank you to me. Nice.

During the Toby Mac show fans were jumping and singing along and others just stood there. I'm guessing those who knew the songs came from Barrie and Kitchener where Christian radio promoted the show but Toronto fans probably didn't know his songs because there's no Christian radio. I stood in the audience thinking about our pursuit of a Toronto license and was actually getting excited. Up til this point I was only applying out of listener peer pressure, not because I felt God's call. At that moment I felt a hand on my head. It was warm. There was nobody near me and I felt weird. I remember thinking, "wow, is the calling, now?" Now I'm excited! In my mind's eye I pictured our new radio banner hanging over the balcony at Church on the Queensway. Wow! The excitement did not leave!
LIFE went on location to the Huntsville Fair where Ben and Maria rode the ferris wheel for three days! It was a fun stunt. Here's a video.
Evan Duran produced a sexual addiction show, hosted by Ben and Paul Lavergne a therapist. We got many encouraging reports from listeners about our boldness to tackle a sensitive issue. But I also started getting an abnormal amount of negativity - about everything. Listeners complained about the sex show, listeners complained about songs and artists we play; listeners complained about our "Bad Company Corrupts" billboard. Some of the complaints were nasty and combative. Even inside our team there was controversy. Is this like a spiritual attack meant to discourage us? Man, it sure was a discouraging time!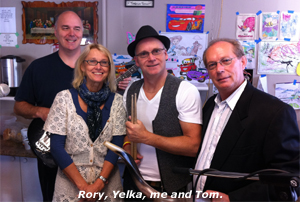 I left my church in Alliston after we bought a house closer to Orillia. Leaving APC also meant leaving the regular drum gigs, that is, until Tom Roe came along. He invited me to play several times, often with different musicians along side. We seemed to find a home and fit in leading worship at Living For Jesus Outreach Ministries in Orillia.
Late October - Gospel Music Association Canada hosted four days of music showcases and seminars for radio and artists. I try to go every year.
The best part is the schmoozing - meeting the Canadian artists we play on the radio. (And a bit of scoping out new radio talent!) Geoff Moore and Steve Taylor (not Canadians) were guest speakers. Both guys have a deep history in Christian music.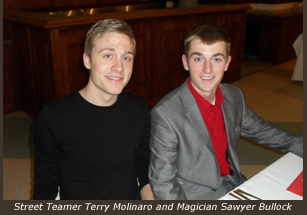 Christmas time! The LIFE 100.3 staff party was held at the Southshore Community Centre in Barrie, overlooking Kempenfelt Bay. We had musical entertainment by Handsome and Gretyl (my son Brett and his wife), magic by Sawyer Bullock and "The Price Is Right" hosted by Crystal Summers.
2012
When Zach Havens told me about his CD release in London, (his home town), I insisted he do a companion release for Barrie fans, which he did on January 13. We picked a trendy art gallery off Dunlop Street in Barrie. Unfortunately it snowed like crazy and the turnout was less than we wanted but it didn't hold back To Tell from performing a blistering set of songs!
The application for 88.1 in Toronto was never far from my thoughts that winter. The first Advisory Committee meeting was held in Newmarket - Eric Spath, Reg Middel, Sean Wood, Paul Firminger, Herbie Kuhn, Fazal Karim, Drew Brown, Hiram Joseph and Maria Lopez. (Later TCM Chair Andrew Hamilton) We began planning for the CRTC hearing in May. Ahhh, the project that never ends.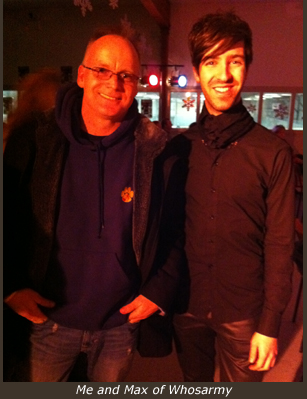 Every month I write a promo spot for a mainstream artist, asking God to touch lives. In January I chose the CBC "Cover Me Canada" winners Whosarmy - four guys fromToronto with a great pop/rock sound whom I became a fan of. They had a show in Cannington during the dog sled races. Apparently two of the boys are from that area - I went to the show, loved the gig and said hey to the guys, and later in February the did a show in a church in Uxbridge. Praying for these guys!
Air Raid 20 was held at Timothy Christian School in Barrie on February 25. This show was booked four months ahead, with more prep time than any other Air Raid. House of Heroes drove their bus in from Ohio, V. Rose flew in from California, Manic Drive from Mississauga were just returning from the States and Behold! The City were the local opening screamo act. Jen Melanson was on maternity leave so Rozz Maassarany filled in, coordinating most of this event. Thanks to me we only went over budget by $2,500 - but it was worth it! 610 fans, flying sharks over their heads and batlights flooding the winter sky!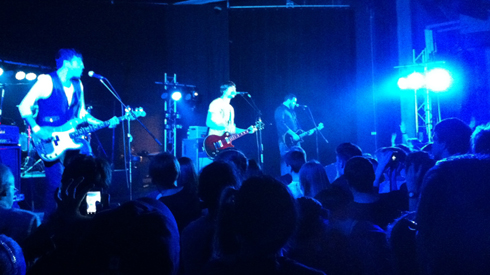 V. Rose performed a short 5 song set. It was uncomfortable to watch just her on that big stage singing to tracks. "Ooh My Ahh" and "Battery" sounded great but her set ended with a drabby version of "Here I Am To Worship" that, most people said, went about 4 choruses too long. The highlight though, was off-stage, while during Manic Drive and House Of Heroes set, V was at her merch booth signing autographs and talking to teen girls, non-stop. It was REAL ministry!
Sharathon promotion began on March 1 with this video.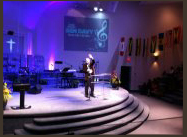 March 11, Ben Davy was the guest speaker at Malvern Christian Assembly in Scarborough.
Here is an amazing church, that listens to LIFE thru the static of cloud cover and supports us with a fat cheque of $5,000!
Ben gave a message about being the salt of the earth - he was at the top of his game!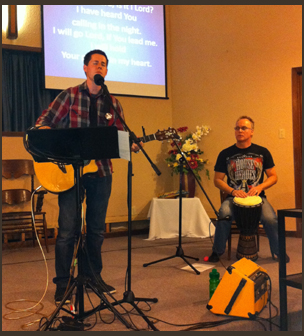 The same month, Chris Bray performed at West Oro Baptist Church. It was his return appearance, bringing with him new songs from his "Hope Arise" album. Chris and I had become good friends over the last couple of years. After he and his wife hung out at the house for the afternoon, we set up at the church and I was invited to play djembe along side. My first time playing drums with a recording act! Big fun!
Our 13th Sharathon "Lift Me Up" was the most successful to date. More pledges (1,886), busting thru the roof for goals – monthly $24,518 and one-time $148,478. For the first time, the monthly goal was reached before the one-time and it is the toughest to fulfill. This was Maria Lopez's first Sharathon at LIFE – she caught on immediately. In radio, we play practical jokes while the DJ is on the air, to see how far we can push them before they mess up – if they're really good, the listener will not notice any interruption. I poured a half a bottle of ice cold water down Jordan Cruz's shirt while he was announcing donor thank-you's! He didn't shrug! Quite the pro!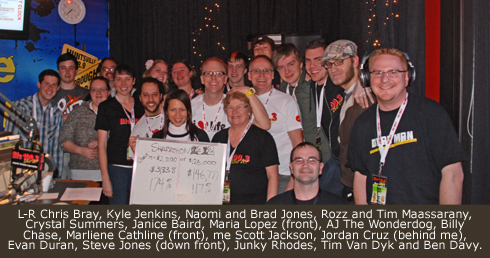 Chris Bray was back in Barrie for the second time that week. We invited him to lead us in a live version of "Shout To The Lord" – the song we always play after announcing the totals. It was an exciting, heartfelt few moments with the entire staff and volunteers in the studio, rejoicing in the moment of achievement while giving God the glory.
This Sharathon was a tough one for me. On Day One depression got the best of me; I went home at 4 o'clock feeling bummed out. I was back for Day Two, only dropping by a couple of times in midday, saving my concentration and stamina for the last 3 hours on Day Two. Also on Day Two, we were served with a letter of intervention against our Toronto FM application by another radio station – very disheartening, and then moments later, our receptionist's husband was laid off his job after 43 years.

The goals were met and God supplied our needs for another year as He promised, and Sharathon 2012 was – truly amazing! The LIFE After Party was thrown privately by a listener – a very blessed night.
The biggest project of the year was the pursuit of 88.1 FM in Toronto. Although I'm from Toronto, once I left I never had a heart for Toronto.
In October 2011, I was at a Toby Mac concert in Toronto and I felt God call me for Toronto and the fruit of that was a changed heart. I was excited for 88.1 and couldn't wait for the CRTC to approve our application. I poured everything I knew into the application - it was my best work. I formed a committee. We prayed hard.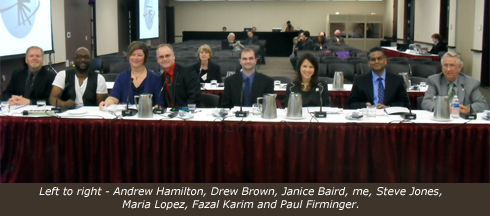 On May 10 our panel presented our vision to the CRTC which included a short video. The video was produced by AJ The Wonderdog. It oozed with passion. We waited and prayed and waited and in September the announcement came - and we were denied the license. It left me confused. If God called me to this project and we prayed, a lot, why didn't it happen?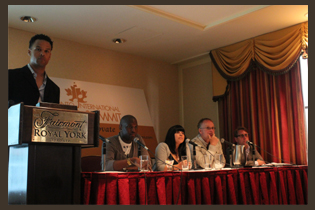 On May 21 I joined a panel at the International Music Summitt in Toronto, held at the Royal York Hotel. This secular conference was for artists who want marketing ideas about getting airplay. It was a rare opportunity to jump back into the mainstream and talk to my mainstream counterparts. Kardinal Offishall was the main attraction. As he spoke, I quickly googled him to find out his role in mainstream hiphop! Haha!
LIFE 100.3 brought back Karaoke Superstar for season 5. With Jen Melanson on maternity leave, Rozz Maassarany had the task of organizing it. We did seven regional auditions; some really great; one sadly untalented. My role as a judge was very rewarding. While the semi-finals were an organized disaster, in fact, probably the most unprofessional event we've ever done and I wish I could forget it, the finals on June 2 were fabulous.
Matt Brouwer joined Steve Jones and myself as the final judges. The boys in Manic Drive drove in their lighting system to beef up the stage at Emmanuel Church, and Andy Horrocks the producer of the winning artist also brought his band to give the event a live concert feel. In the end, Shaelynn August took the winning trophy.
Ben Davy left LIFE after his last show on June 25. Ben and I go back to before LIFE started, when I met him at a meeting of youth pastors. At the time he was working as a youth pastor at Mapleview Church. He asked a couple of questions about my vision to start LIFE and once I heard his amazing voice, I made a note to get him on staff.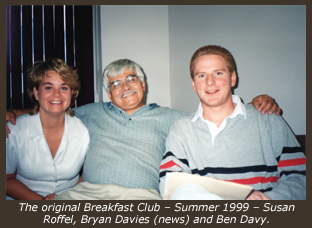 I remember Ben and Susan (his co-host in 1999), at my house, practicing "how to do radio" in my basement. They would read weather forecasts and introduce songs - polishing their style so when we hit the air, it would sound slick. And it did. Although Ben wasn't there when we signed on, and I'm not sure why he missed it, he was the first person I hired and he gave us 13 years of fun and ministry on the Breakfast Club. June 25, 2012 was a sad day as I asked Ben to step down to deal with a personal family issue.
Canadian recording artist Dan Bremnes and I met in 2011 and quickly became good friends. His songs moved me, his amazing voice blew me away, and I volunteered to book his July Ontario tour. There were a dozen dates in the LIFE listening area including the LIFE Sunset Cruise in Orillia in August. Man, I learned a lot about bands and promoters - the travel distances between shows, the poor accommodations, the neglect to an artist contract, lasagna night after night and of course the expectation of a great performance despite what I just said. Hey, you bands have my utmost respect!
We brought back The Saturday Morning Retro Show to LIFE, this time with me hosting. While I wasn't a Christian when many of the early songs were hits, I became familiar with the 90's and all those artist meet and greets left me with some fun stories to tell.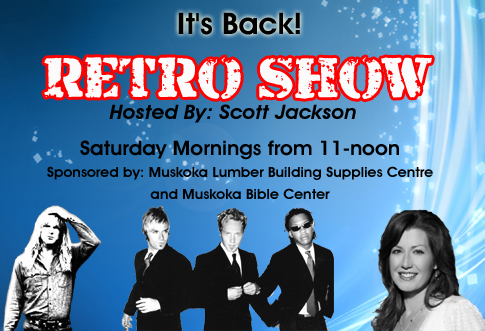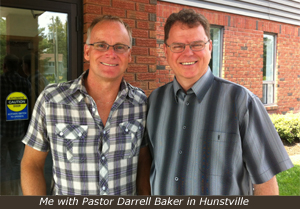 The Sunday morning speaking engagements were on a roll. Armed with my new message called "Reverse Thinking", I spoke at West Oro Baptist Church, Living for Jesus in Orillia, Stayner Evangelical, Calvary Evangelical in Owen Sound, Faith Church in Alliston, Victory Church in Port Perry, Living Faith in Baxter, Orillia Community Church, The Lighthouse in Wasaga, Pinewoods Chapel in Angus; Faith Baptist in Huntsville; Knox Presbyterian in Midland; Aurora Cornerstone and APC in Alliston.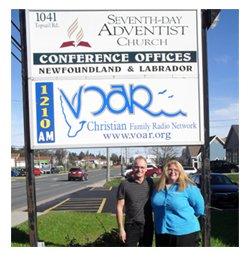 My radio friend, Sherry Griffin, the Station Manager of VOAR in St. John's Newfoundland invited me to come for a visit, meet the staff, explore "the rock" and see VOAR after many years of only connecting via email.
We talked radio day and night and across the restaurant tables.
And in some free time, I got to explore some notable places.
Like where Terry Fox started his "Marathon of Hope" and the location where Marconi made his first wireless transmission!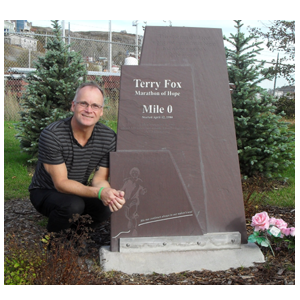 LIFE presented Air Raid 21 November 3, 2012 at Mapleview Church in Barrie. Rather than put together a show from scratch, we bought a show already on tour, headlined by Abandon, with Anthem Lights and Finding Favour. We ran a contest for local bands, offering the opening position at Air Raid as the prize. Unlikely Heroes from Orangeville were the winners.
The tour travelled 8 hours from a small town near Pittsburgh, arriving for load in at 9am. Our local roadies got everything inside and ready for soundcheck by Noon.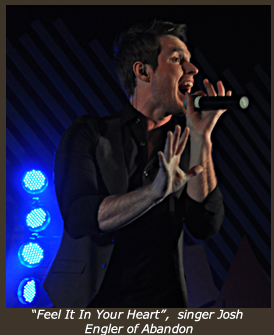 Admittedly, the two headliners are not recognizable although LIFE plays Abandon and Anthem Lights regularly. The supporting act was Finding Favour who were totally unknowns to our audience. They brought the sound and lights to the tour and, in my opinion, were the dark horse performer - and they were awesome! FF led by Blake NeeSmith, are a modern worship act, who posted the lyrics on the screen, drawing the audience in, instantly. And, they were super-nice. It would be a pleasure to have them return to an Air Raid, or another future event.
Anthem Lights took us by surprise. While we know their songs "Outta My Mind" and "I Wanna Know You Like That" we didn't know they are a boy band!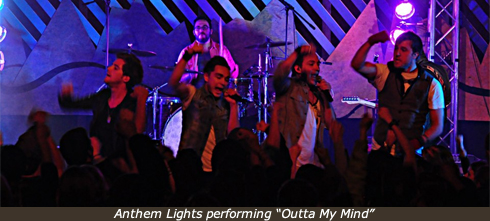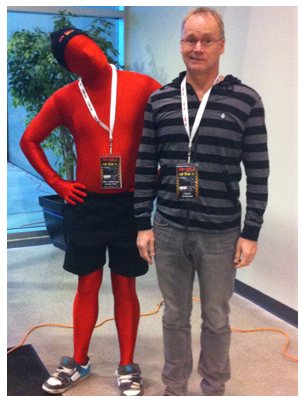 The audience was greeted by "The Red Man" who entertained the crowd with glow sticks and general weirdness.
The LIFE 100.3 staff party was another surprise event. Janice and I love the annual Christmas party. It's our mission to woo the staff with a great night for them and spouses, with games, and great food and sometimes a little trip.
This year, we asked the staff to meet us at LIFE, to board a bus to an unknown destination. Our motorcoach took us to the Old Spaghetti Factory in Toronto and then to see the Mirvish stage production of The Wizard Of Oz! Even the young boys on staff were raving about it!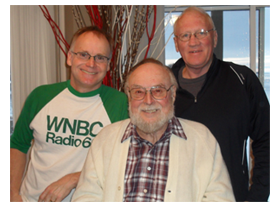 Little did I know that Christmas 2013 would be the last with my Dad and my poodle. Sometimes family get togethers are stressful but this Christmas was a total joy. Dad didn't cancel as he sometimes did. He was here - we took photos - we had fun. It was a Christmas to remember.
2013
The annual tradition of hosting the Top 50 countdown ended 2012 and opened 2013. It's one of my favourite things in radio. And it has history. Back when I was a pre-teen, I listened to 1050 CHUM playback the best songs of the year on new year's eve. Back then, I recorded the songs on my cassette! Every year since I have collected the year end chart, either when CHUM was producing them or at the stations I worked at. So, hosting a countdown, to me, is the coolest thing on the radio! Thanks to Steve Jones who researches and scripts most of the show.
2013 did not start off too good. Dad died on January 5 - he was 87. Callie was diagnosed with nasal cancer and she would die a few months later. The grieving, the will, the ashes and the hurt - it was a lot to push through.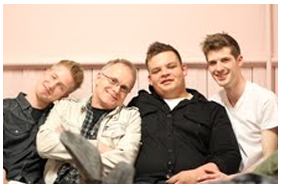 A week later, Anthem For Today was throwing their CD release party in Flesherton for their debut album "A Little Louder" produced by Jamie Aplin and written mostly by Aplin and TFK's Trevor McNevan. Cedarside Baptist Church packed in 100 fans and family and the four boys performed a 30 minute set of songs and stories. A short time later I was invited to be the Band Manager - sometime I said I would never do again, having managed three bands in the 80's. Somehow, this felt right. I accepted and AFT became my new hobby - booking shows, planning stage shows, coaching, connecting and buying whatever was needed.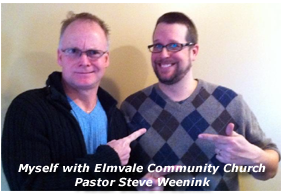 LIFE 100.3 Sunday speaking engagements were booked regularly by Tim Maassarany, with Tim and me sharing the majority of dates. My new message was entitled "Worship Like A Rock Star" which included a lyric video by Detrick Haddon for "Show Stopper". I love presenting this message. Even to church audiences that are older and unlikely to relate to this message, it seemed to be a hit. I've grown to love speaking engagements, meeting new listeners and participating in different styles of worship. It's a good gig.
Sharathon 2013 was entitled "We Are The Light of the World", taken from the song by Kari Jobe. Each year it's the same thing - set goals, share the vision, ask for money. I love Sharathon. I think because so many other Christian radio stations dread doing it, and do a poor job of it. At LIFE, our staff have become excellent story-tellers. Each DJ can share, personally, about the value of Christian radio, keep it interesting, and in the end, help us hit the financial goals. This year we hit an all-time in the monthly pledges $5,086 of new money (on top of the existing $22,000 monthly giving). Our one-time was $136,063 - another amazing gift from God. (Those numbers are pledged amounts - the actual amount falls short each year as people neglect to fullfill their pledges.)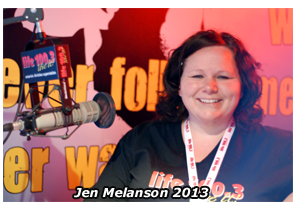 The day after Sharathon we said goodbye to Jen Melanson. Jen joined LIFE 12 years ago as the host of slammin' Christian Hits which lasted six months, at which time she moved to be on the Breakfast Club and balance that with Promotions Manager. The promotions department was Jen's passion. She created contests, directed the Street Team, helped create t-shirt and billboard designs, produce concerts and balance all of that with a little afternoon show. It would be an understatement to say that Jen was an anchor employee at LIFE and we wish her well as she becomes a mommy, again!
On April 8, my boys in Anthem For Today shot a video for the new single "Earthquake". The scene was set at Riverside Fish and Chips in Durham, where the owner closed down the restaurant just for this event - so we could "transform the restaurant into a concert!" About 20 fans were invited to be in the video. We brought lights, makeup, gear. The video was storyboarded by the band and directed by Evan Duran.
Watch the video here!
The next day, April 9, Callie died. I've said I would never put down a pet. Never. And you know what happens when you say "never", right? The horrible story is linked
here
. Suffice to say, we knew the end was coming and we prayed for God's perfect timing - it was. Had it been a couple of weeks sooner, it would have affected Sharathon, or the day before it would have affected the video shoot, or the week after where Janice and I had other family commitments. It was truly God's perfect timing.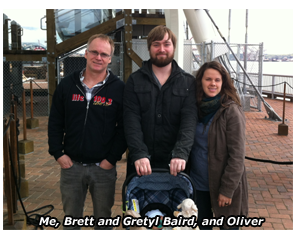 A quick weekend jaunt to Seattle happened at the end of April, where we went to visit our son's first baby - Oliver.
The short visit was wonderful, to one of my favourite cities that is loaded with personality and things to do.
In early May, Jim Wilson Chev in Orillia traded our leased EQ for a new model and a new logo wrap, paid for through Sharathon. It is one of our very best!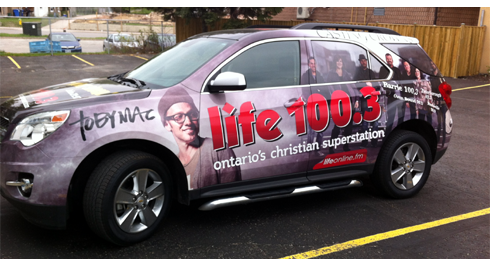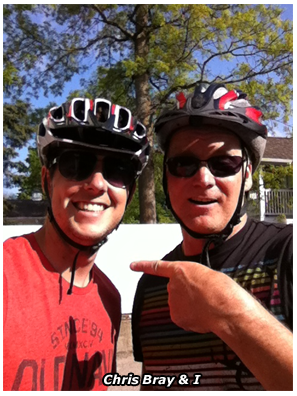 Recording artist Chris Bray threw a party for the release of his new album "Beloved Child Of God" at the Old Towne Hall in Alymer. It was a pleasure to attend and support my buddy, and then the following week Chris came to hang with me for a day as we chatted our music, ministry God - and bikes!
Throughout May 2013, the weather was extreme from hot summery days to the return of winter storms and power outages. Four times LIFE's broadcast was affected by storms that twisted our transmitter antennas in Peterborough and Barrie, requiring the emergency assistance of stand-by engineers who have the nasty job of dropping everything and traveling to barren locations to figure out what's broken and how fast they can fix it. In the end we spend nearly $12,000 on labour and repairs.
One of my favourite things about LIFE 100.3 is the Air Raid concert series. Number 22 was a 2-parter. June 28 in Huntsville and the next night in Owen Sound. It was the first time in many years for an all-Canadian Air Raid, headlined by To Tell, with support acts The Color (who drove all the way from Winnipeg), Prosper and GMA (from Ottawa) and Anthem For Today from Barrie and Flesherton area.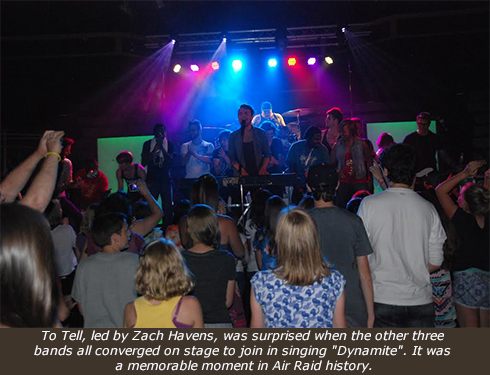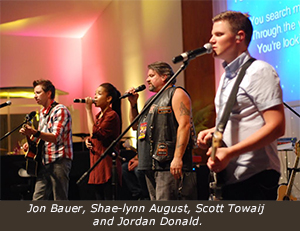 I'm not sure if I was partly insane or overly confident, but the weekend after a double Air Raid, we did a double Heart of Worship - July 6 in Peterborough and the next night in Barrie. This was the second in this series of free shows. I've felt that we shouldn't charge people to come to a worship concert to worship the Lord, so we get sponsors to pay for the cost of the show. The artists were Scott Towaij (from Ottawa), Shae-lynn August (our Karaoke Superstar winner), Jon Bauer (from Edmonton) and Jordan Donald from Harvest Bible Chapel in Barrie.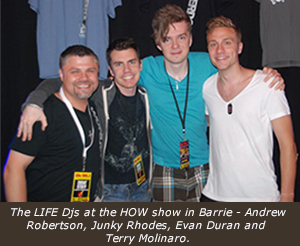 Both nights were fabulous for the audience and behind the scenes, nearly flawless. You'd think, if you're promoting a concert, doing two wouldn't be that much more work, right? Wrong! Aside from twice the cost, is the factor of two cities, hotels, travel, more catered food, different sound people, etc. Arrrrrrrg!
Our Sharathon donors from Peterborough helped us promote LIFE with a fully wrapped transit but in Peterborough. So awesome to have the bus on a different city route each day - travelling visibility! Here is Hawk Nelson founder Daniel Biro next to our Peterborough bus!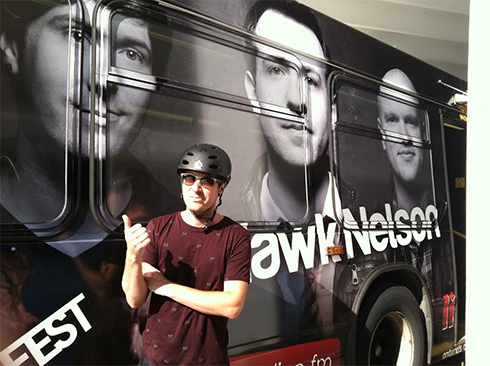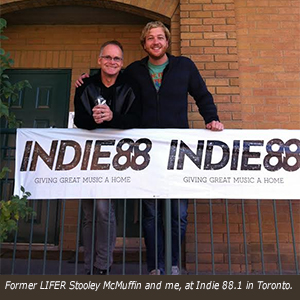 It was a shock to me that the CRTC did not award us the license for 88.1 in Toronto. Our committee was awesome. We were prepared, we produced a great video for the Commission. Arrrrrg - I'm reliving it all over! Who got the license? ROCK 95's owner in Barrie. Well, if we couldn't have it, I'm glad our friends at ROCK got it. They're good people. The station was named Indie 88.1 and look who they hired as their commercial producer!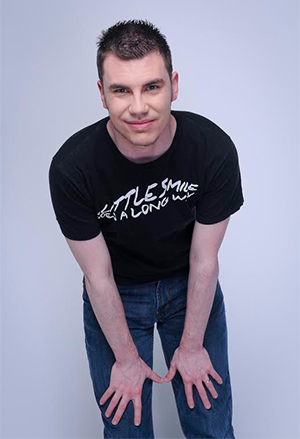 After ten years at LIFE, Junky Rhodes let us know he was moving on to a new area of his life. At the time, he had not told us what the plan was. I was very sorry to see him leave. Junky was a great example of coming to LIFE as a volunteer, getting his foot in the door, and then once he got in, he was sticking his foot in almost every door available.
Junky was more than an on-air personality (and probably my favourite), but he was our Assistant Music Director, he was our primary Street Team guy, he covered reception, handled programming, filled in for Steve Jones when he was away - I've probably forgotten other projects. A few people have returned to LIFE for a second time - I'm hoping one of them will be Junky.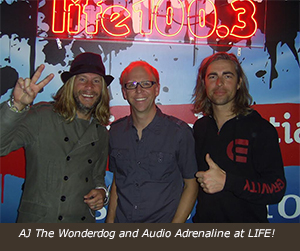 When I heard that a concert promoter was bringing Audio Adrenaline to Barrie, I flipped! Such a major recording artist. We invited them to visit us at LIFE - and they did! Founder Will McInnis hung out with AJ The Wonderdog just before the official soundcheck!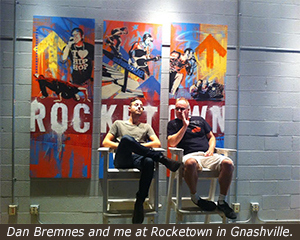 The Dove Awards are a big night for Christian music and they production is a first class event. I've attended a few times, but it had been awhile. This year, Evan Duran and I flew to Nashvegas and enjoyed a great night of music by most of the year's biggest artists! While in town, we ran into Dan Bremnes, who was in Nashvegas working on music for Capitol Records. Dan, Evan and I grabbed some food and visited Rocketown.
The Covenant Awards are the Canadian version of the Dove Awards. The promoters put on a classy night where we all get dressed up, enjoy a prime rib steak dinner, watch the awards and live music - a great night. The band I manage - Anthem For Today - were nominated for three awards, and we won Modern Rock Song of the Year for "Inside Out". I was in total shock. My mouth must have been a gapping hole. I was so proud of the boys!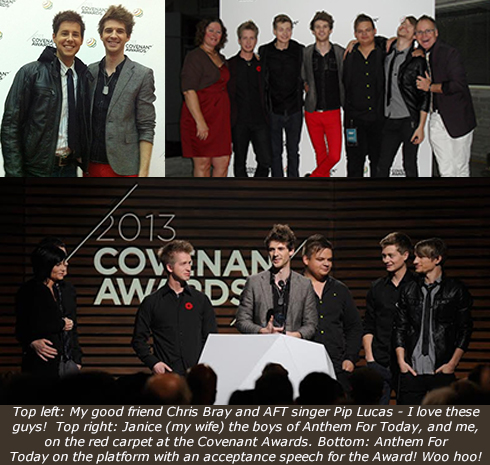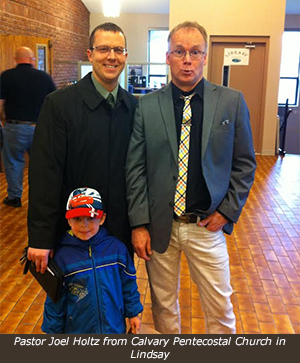 Junky Rhodes and I were a Sunday morning duo, on the road very early with the Street Team, en route to churches across Central Ontario. Together we did about 15 or 20 dates a year, where I was the guest speaker and he lifted all the heavy gear. My sermon message was "Worship Like A Rock Star". I grew very attached to this message, in which I talked how we get excited for rock concerts and rush to the front row but in church we arrive late and sit in the back.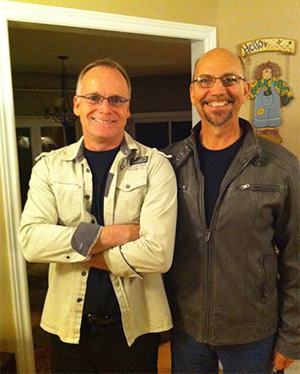 In October, Anthem For Today and I did a northern tour with a stop in Cochrane. There is my new friend Bob Cox (left). Bob is the pastor of Glad Tidings and the founder of CFCJ radio. I loved hanging out with him - he took great care of the band and me - fed us, encouraged us. I hope we return again soon.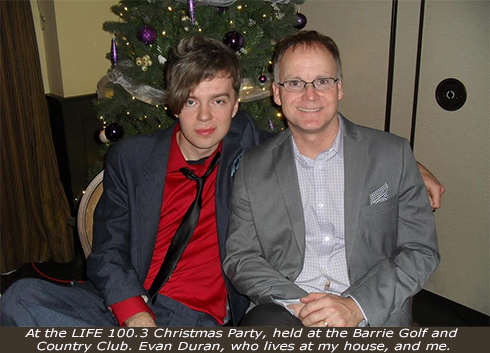 Continue reading